Patreon is one of the biggest sites for content creators looking to monetize their content. But just because Patreon is a big name in the space doesn't mean they're the right fit for your online creative business. Not all content ventures need the same monetization model or website infrastructure. Let's look at some Patreon alternatives that could suit your online business even better.
Examining Patreon
First, we need to understand the particularities of the Patreon platform. If you're here, you may already have a sense of how it works. Creators make a page on the site, where they establish subscription tiers that grant access to their content when certain pledge amounts are met. Creators can customize where these tiers begin and end, and patrons are free to pledge however much or however little they'd like. It's simple and elegant, but it isn't the only way. Let's examine some pros and cons.
Pros
–Name recognition: Patreon is a huge ecosystem with a name that people know and trust. They understand it's different uses
–No hard requirements for creator use: Patreon creators can put tons of gated content behind their paywall, or little to no content if the Patreon is understood to be their "online tip jar". This flexibility allows many different types of creators to use Patreon. Creators can charge monthly, or per post.
Cons
–Content security isn't the norm: Many Patreon creators run up against the technical limitations of the platform and its remoteness from their own branded website or the huge platforms where they grow their free audiences. Podcasters don't want to limit their listeners to the Patreon app for their free episodes, so they just end up distributing an RSS feed behind a paywall- with no way of ensuring it won't be shared to non-patrons. Video creators can't currently upload directly to Patreon unless they use the Pro or Premium plans.
–It's not your own branded website: Patreon is it's own ecosytem, outside of the major platforms where many artists gain exposure. But your while your Patreon creator page can look great, it's not the same as having your own branded website, complete with your own logos, colors
Pricing
-Patreon takes 5 to 12 percent. The breakdown is in the asking price for your subscription tiers. Find a detailed breakdown here.
1. Odeum – Create Your own Subscription Service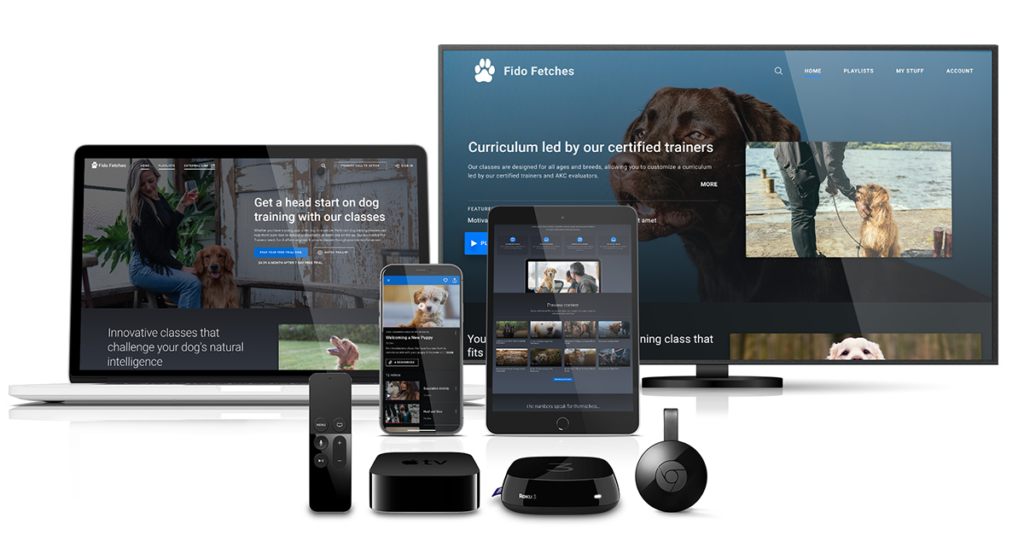 In a digital landscape that's saturated with hard-to-use apps and low-quality content, you need to stand apart. Odeum is a powerful system built for creators that will help you launch and manage your own subscription service and Over-the-Top (OTT) Platform. Odeum allows you to manage your content, pricing, and branding while distributing your content across all major app stores. It's a Patreon Alternative for creators and brands looking to establish their own premium content brand.
Odeum is your powerful, elegant toolset, but the apps are yours. Your subscribers will only ever see you on the app store, as you stand proudly alongside major publishers who have spent thousands on pricey boutique apps. With beautiful design and a feature-rich experience, Odeum will set you up for success and allow your content to shine!
Designed for Customization and Beauty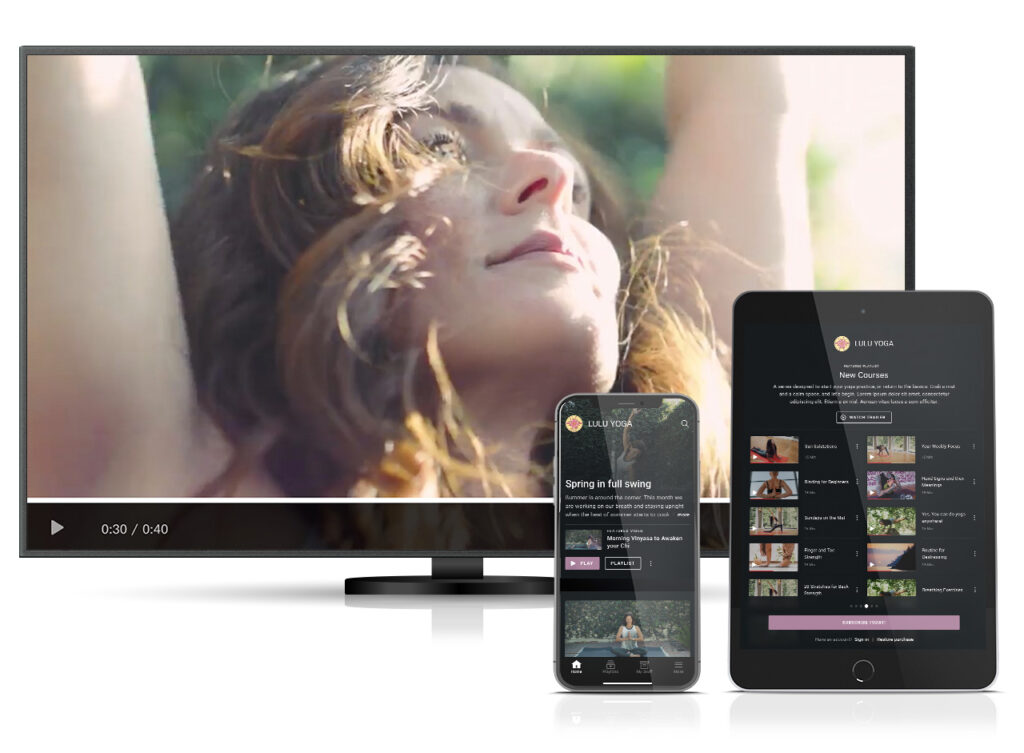 Odeum is more than just a delivery system for your content. Its ease of use and fantastic design is also a huge asset to your branding. Across all devices, Odeum's elegant look and feel is designed around presenting your content in a straightforward, tasteful fashion. All of our apps are highly customizable, too- allowing you to show your brand identity with colors and logos, as well as control what potential subscribers and paying customers see. We know that video creators need to put their best foot forward in the digital space. We also know that Odeum won't let you down.
Features
-High quality beautiful apps that are totally branded to you
-Available across all major platforms
-Sophisticated analytics and subscriber management
-Dedicated Support
-Launch in as little as 30 days
-Different plans for different types of creators.
Pricing
Multiple plans are available for Odeum publishers. Whether you have an established content brand or are looking to grow your business with powerful tools, we have the plan for you. Plans start as low as $39.99 per month, and you can check them out here.
2. Podia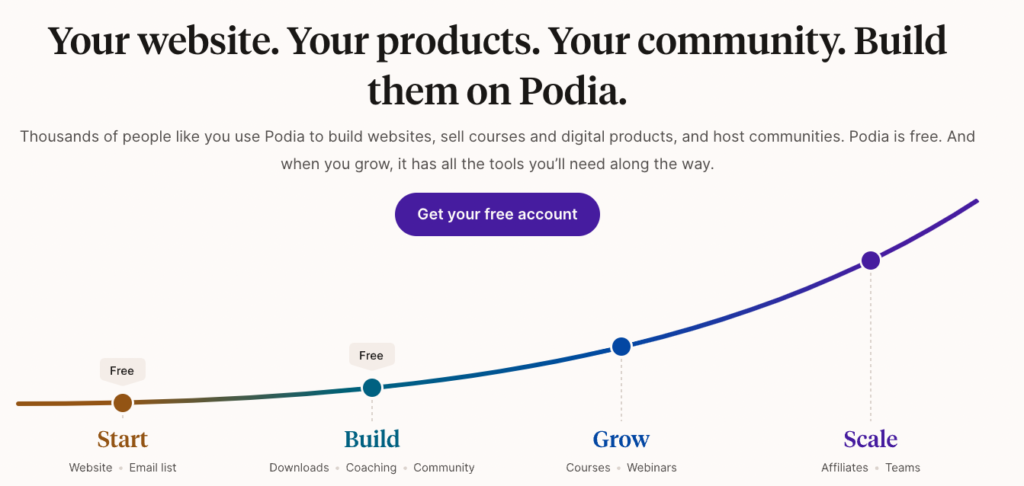 Podia is a platform purpose-built for online course offerings. Whether you are offering one or multiple online classes, you could find a great home with this Patreon alternative. Not only do they host online course offerings, but they also host your community message boards on their platforms.
Features
-Sell your courses online from a branded website
-Build a community with paid and free groups that can be hosted on your website
-Distribute content across web and mobile platforms.
Pricing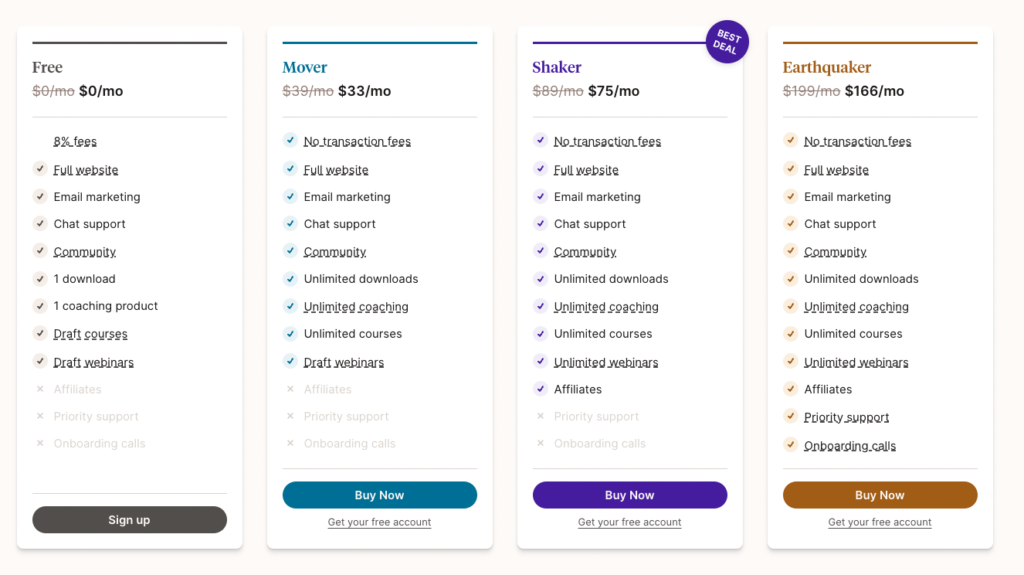 Podia has a variety of plans for different types of creators. They even offer a free plan in exchange for an 8% commission on fees. Check out their plans here.
3. Buy Me a Coffee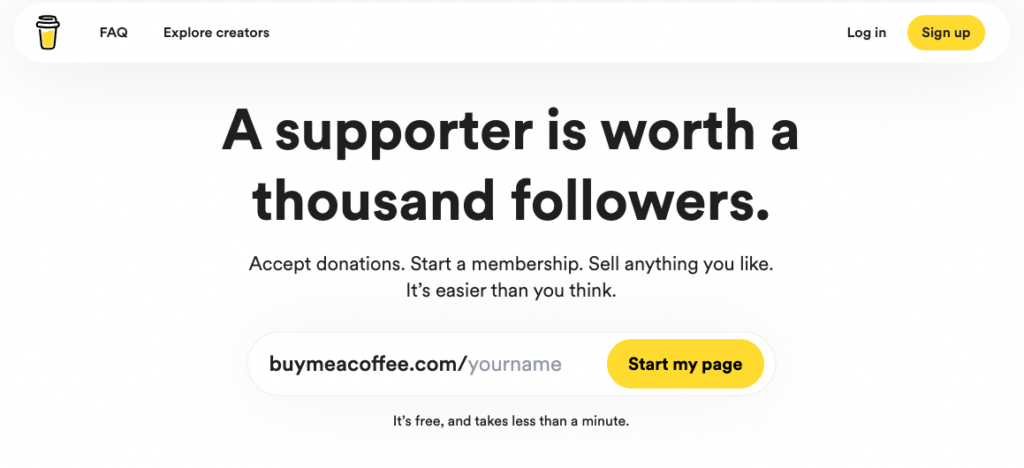 Buy Me a Coffee is a Patreon Alternative that functions very similarly to the Patreon platform, but with some important differences. Supporting creators does not require any patron sign-up. The title says it all- it's all about making small contributions to creators. These can range from one-time donations to recurring contributions.
Features
-Super easy set up and low barrier to entry for creators looking to start right away.
-Flexibility in use: use Buy Me a Coffee as a system for consistent support or simply as an online tip jar for your content on free platforms.
Pricing
Buy Me A Coffee's pricing is super straightforward. They take 5% of transactions and nothing more. There are no tiered plans for creators, and set-up is very quick. This Patreon Alternative is focused on efficiency and elegance for creators and subscribers alike.
4. Koji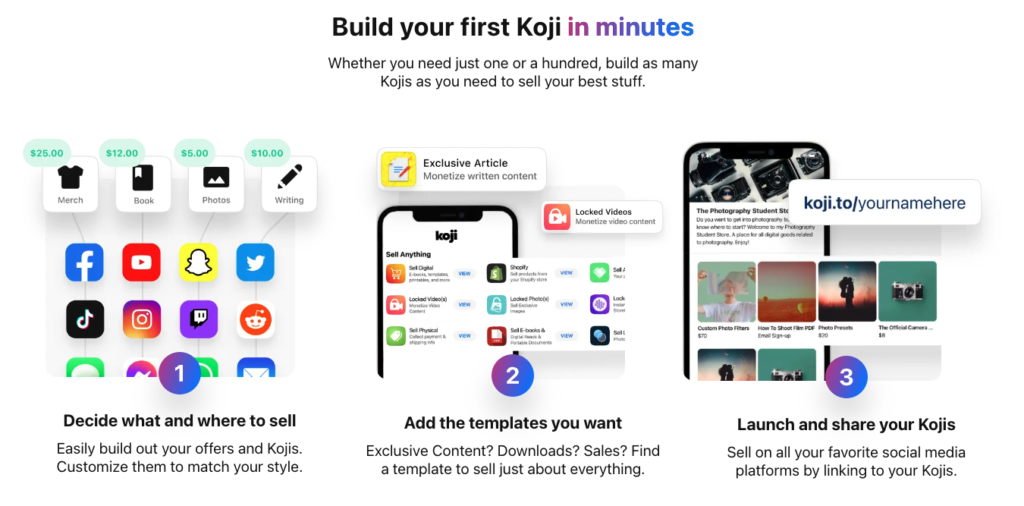 Koji decks out your "link in bio", turning it into a flashy destination where you can direct followers to different parts of your web presence and conduct transactions. This Patreon alternative is for creators who make content on social platforms like twitter and instagram, who want accessible tools for making transactions with their subscribers.
Features
-Koji is super customizable, and works on an app-based system. Put in a tip jar or a link to a contact form, or take a poll.
-Koji is flexible depending on the type of creator you are. While you may not be building an in-depth site for any one thing, but you can have a lot of little things that add up to a killer presence
Pricing
Koji is free to use, but charges percentages based on the apps you choose to use within their system. Set-up is quick and free.
5. Kickstarter

This fundraising platform is an internet institution and a great Patreon alternative for those creators who are looking to raise funds for a singular project. Kickstarter is best for funding large projects with clear goals that are a bit beyond your current means. It may not support your month-to-month content creation, but it's a great Patreon alternative for your dream short film board game, or comprehensive video series.
Features
-The all-or-nothing funding model gives your fundraising period a distinct beginning and end.
-Go over the top! If your project is truly popular, you are free to far exceed your Kickstarter goal.
-Offer project updates right on your kickstarter page both during and after the fundraising process
Pricing
Kickstarter will always take a 5% cut of the money that you raise, and will charge payment processing fees from 3-5%. Read about pricing and check out other FAQs here.
6. Liberapay

Liberapay is a Patreon alternative that can facilitate donations to creators. Different from platforms like Patreon, Liberapay only handles donations. It cannot be used with the intention of any sort of contract. This is simply a tool that collects donations from those interested in supporting your work on a continuing basis.
Features
-Transparency and openness is core to Liberapay's mission. They support a multitude of languages and currencies, and a non-profit organization runs the service.
-You can set up "teams" to split donations without forming a legal entity.
-Liberapay does not take a cut of your donations (though the payment processors they work with will)
Pricing
Donations fund Liberapays operations, but the underlying payment processing services will charge fees from 3 to 5%. Learn more by reading Liberapay's FAQs here.
7. Memberful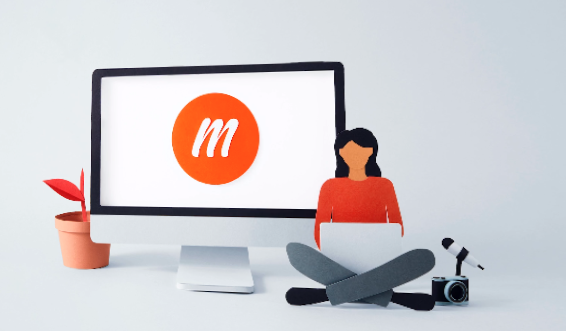 A Patreon alternative that isn't dependent on any one website, Memberful is a flexible, decentralized subscription and account management/creation system. Integrate it with your website, your discord, or other online destinations.
Features
-Memberful offers support for many different types of subscriptions, from weekly to monthly, or even one-time payments.
-You can launch a website with Memberful using their tools, or simply use it as an integration on your own site.
-Newsletters, podcasts, and many different types of businesses can use Memberful due to its flexibility with integration.
Pricing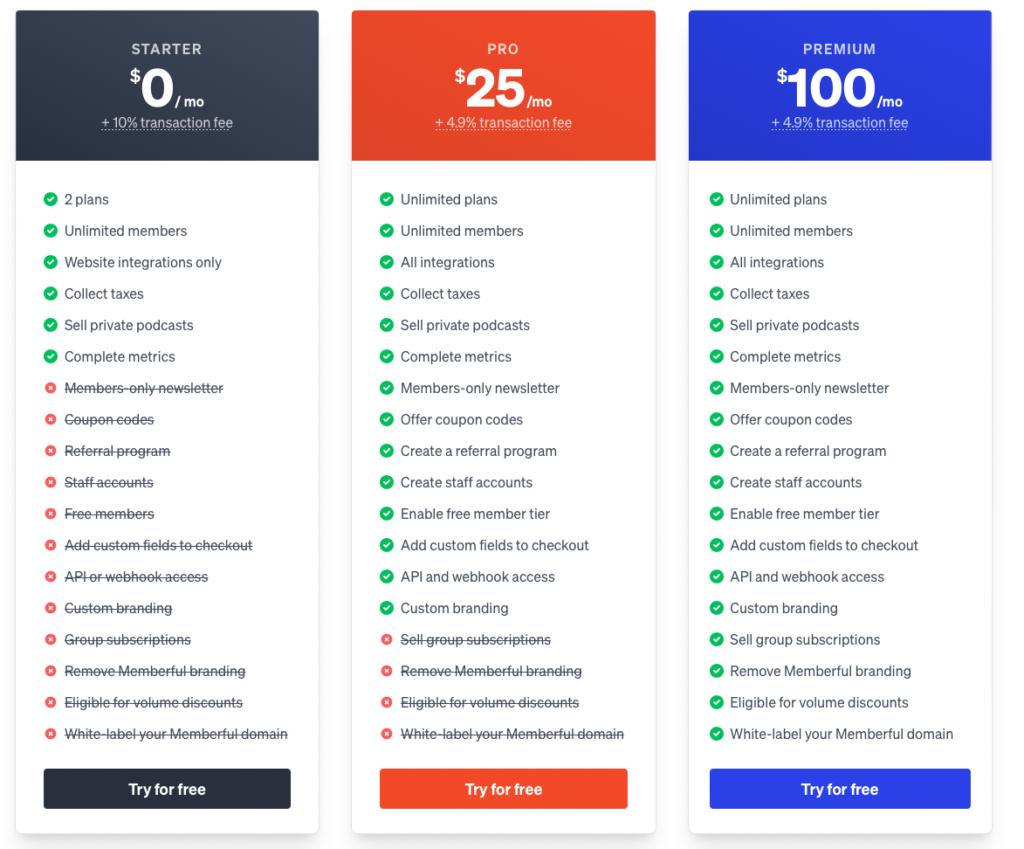 Memberful offers several plans, ranging from a free plan to $100 per month. Check out their plans here to learn more.
8. Fangage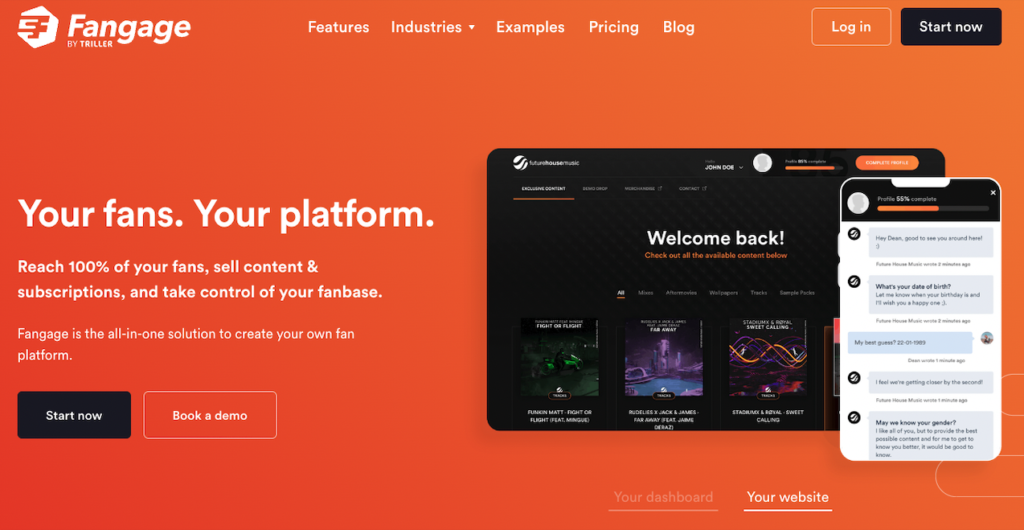 Fangage is a Patreon alternative for content creators and brands looking to create a close relationship with fans that isn't dependent on the whims of social media platforms. Fans can access your site in exchange for their contact info. They get access to your site's content, and you get a direct line to them for important announcements and promotions.
Features
-Create a completely free site or sell memberships and gated content.
-Run contests and pick winners with the platform's built-in functionality
-Grow your social footprint by requiring that fans follow you on different platforms in order to unlock content.
Pricing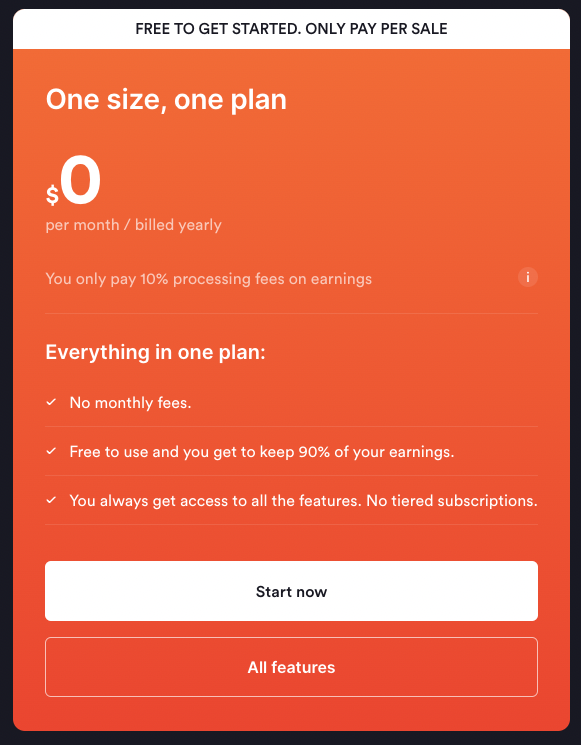 Fangage is free to set up and use, but will take 10% of what you earn. You can learn more about their plan here.
Last Thoughts
There are some great platforms out there to help you monetize your creative business, but as you may have figured out, we want you to try Odeum. You can launch an Odeum channel in as little as 30 days, and put your content on all major app stores alongside huge publishers like Netflix and Hulu. Our publisher support team is standing by to guide you through the launch process and get your content out into the world with a beautiful, professional presentation. You can set pricing, arrange a killer marketing page, and show preview content that will sell potential subscribers on your video platform. With Odeum, you'll be able to manage your content easily and give subscribers a great user experience that will keep them coming back for more. Get Started with us today and see what Odeum can do for you!